Projects at Coolart
The Shearing Shed at Coolart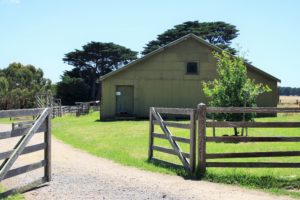 The Shearing Shed at Coolart is a great building to visit.  When you first slide the old wooden door across and walk in and once your eyes adjust to the gloom, the smell of wool and sheep manure tells you right away you're in an Aussie shearing shed.  For someone who grew up on a sheep farm, it's the sight and smell of childhood.  You can almost hear the buzz of the electric shears, the barking of the sheep dogs, the click of the wool press and the loud banter of the shearers and rouseabouts.
But for other visitors, it's all a bit of a mystery.  What are those bins for? Why does some of the floor have slats? What's that strange-looking table for?  Where do the sheep go?  Common questions from those who have never visited a shearing shed before.
In discussions with our partners at Park Victoria, and following up on recommendations from previous surveys of the Coolart buildings, we decided it would be great to enhance the visitor experience at the Shearing Shed through a series of interpretive signs and displays.
Late in 2016, the Friends were fortunate to obtain a Roving Curator grant from Museums Australia (Victoria).  This grant consists of advice and guidance from a qualified Curator as to how best to realise our vision to create, "an inspiring, enjoyable and informative exhibition of the story of wool at Coolart".  Since then we were also delighted to receive a grant from the Mornington Peninsula Shire to pay for the development and creation of the interpretive signs.
The project is well under way.  A fascinating history of success and failure with sheep and wool-growing under various Coolart owners is emerging; all under the careful guidance of our Curator and involving our Parks Victoria colleagues and local historians.  Photos and stories that have not previously been on public display are being unearthed.
We are hoping to conclude the project in early 2018, and feel certain, that through the new signs and displays, the Shearing Shed will be a highlight of any visit to Coolart.